Community Events & Announcements
Throughout the year, you can find the Education and Outreach team giving presentations and leading fun mini games to teach the importance of protecting and preserving our coastal resources. Invite us to your next event or look for us at the:
Flame Tree Arts Festival
Taste of the Marianas
Northern Marianas College Career Fair
NMC-CREES & 4H Marianas Camp Maga'lahi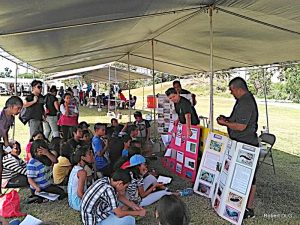 Environmental Awareness Month
April is BECQ's Environmental Awareness Month. We hold activities and events all month leading up to Earth Day, which is celebrated internationally on April 22nd. A team favorite is the Environmental Expo, an interactive station-based fair for 4th grade students held on both Saipan and Rota. We love to roll up our sleeves, teach students about our work with hands-on activities, and answer questions.
cNMI OCEAN MONTH
June is proclaimed CNMI Ocean Month and DCRM hosts various events throughout the month including a roadside waving, community cleanups, restoration activities, and Ocean Fairs on Saipan, Tinian and Rota. World Oceans Day is also celebrated within CNMI Oceans Month on June 8th.