Sustainable Sites
According to the United Nationals World Tourism Barometer's August 2017 report, the CNMI is the third fastest growing tourism destination in the world. The Marianas Visitor's Authority reports tourist arrivals of 607,593 in FY2018 and 653,150 in FY2017. While these numbers bolster the CNMI economy after the economic decline in the early 2000's, natural resource managers and local community members are calling for sustainable tourism development and management.
Initiated in 2018, the CNMI Sustainable Sites is a Division of Coastal Resources Management (DCRM) initiative, developed from the 2018-2020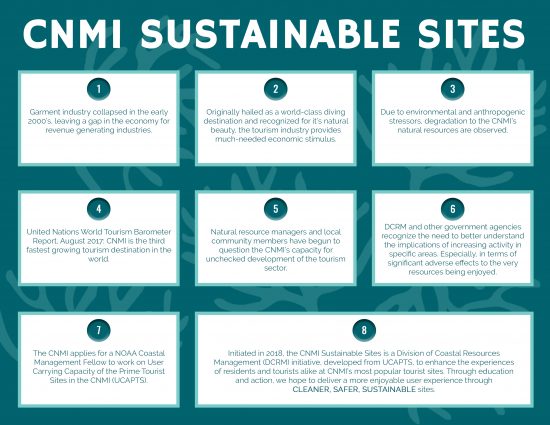 NOAA Coastal Management Fellowship project to work on developing a User Carrying Plan at the prime tourist sites in the CNMI. The objective of sustainable sites is to enhance the experience of residents and tourists alike at CNMI's most popular tourist sites. Through education and action, we hope to deliver a more enjoyable user experience through CLEANER. SAFER. SUSTAINABLE sites.