Eco-Tour Operator Best Practices Certification Program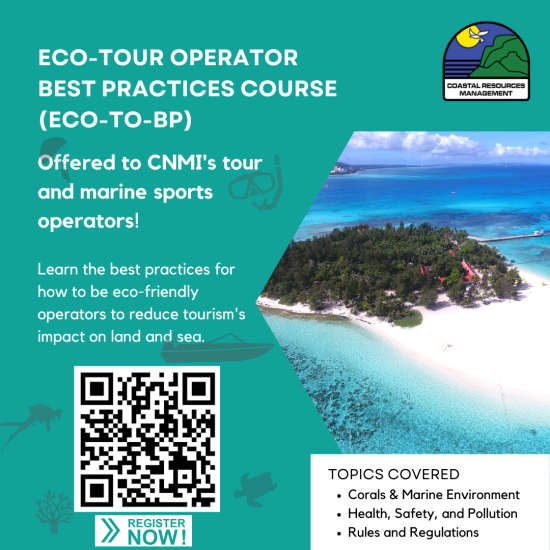 DCRM is offering a FREE Eco-tour Operator Best Practices Course for marine sports operators and tour guide operators starting January 2023. The land and sea create beautiful, unforgettable experiences for our visitors. They must be kept healthy and clean.
During the peak of tourism in the late 2010s, DCRM observed poor visitor behaviors degrading our nearshore waters, beaches, and coral reefs. DCRM and other government agencies believe that marine sports operators and tour guide operators have a important role in the conservation of our coastal resources. They can greatly minimize tourism's impact by having a strong awareness of their environment and commitment to adopting sustainable best practices. This course will teach those best practices to achieve a safer, cleaner, healthier environment that their customers can enjoy.
THIS ON-GOING COURSE HAS CERTIFIED 18 INDIVIDUALS FROM MARINE SPORTS OPERATING COMPANIES SINCE JANUARY 2023.
REGISTER NOW: Sign up for the ECO-TO-BP Course!
---
Benefits:
Why should MSO and tour guide operators take the course?
FREE: No cost! We only need your time and willingness to register and learn.
EXCELLENT INCENTIVE: Good standing marine sports operators can earn a 25% discount on their DCRM permit fee through certification from this program.
Additional requirement: At least 50% of staff working directly with customers must successfully attend 6 hours of instruction and pass the exam.
CERTIFIED AND RECOGNIZED: Certification is granted upon completion of the course. Your company will be recognized as fully trained in eco-conscious and sustainable practices in the CNMI.
IMPROVED RESULTS ON OUR ENVIRONMENT: The main goal of this course is to increase trained, fully environmentally aware operators. With knowledge and resources, they are stewards of the natural spaces they work in. The anticipated outcome is a cleaner, safer experience for their customers and other visitors to the site.
---
COURSE INFORMATION:
Topics:
Corals and Marine Environment – Participants learn about coral health, threats to corals, and best practices to reduce their impacts while conducting in-water activities.
Healthy, Safety, and Pollution – Participants learn about helpful best practices to minimize their waste and general safety measures to prevent accidents.
Rules and Regulations – Participants learn more about DCRM and other applicable government regulations so they can maintain environmental compliance.
LOCATION: DCRM Learning Center, Room 301, Bureau of Environmental Coastal Quality building
LENGTH OF THE COURSE: Maximum 6 hours of instruction; two hours of examination
STATUS OF NEXT COURSE: JANUARY 2024 (ACTUAL DATE TBD)


Register below. Email us at permitting@dcrm.gov.mp with your interest.

REGISTRATION INSTRUCTIONS: 
Send an email to planning@dcrm.gov.mp for your interest.
If you are one person, fill out this form for Registration. If you are a group, fill out this form for Registration.
3. Wait for an email from DCRM. You can expect us to reach out on which times and dates work best for you or your team.