Enforcement
The Enforcement Team helps ensure compliance with DCRM Rules and Regulations including permit requirements and conditions that are intended to help protect the environment and the people of the CNMI. If a violation occurs in connection with a permitted project or unpermitted activity, enforcement proceedings will be initiated.
Problem areas to be aware of currently are: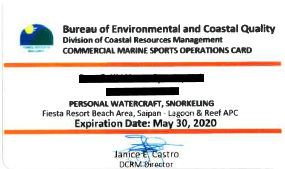 Unpermitted Marine Sport Operators – The Division of Coastal Resources Management Office must permit all marine sport operators. The CRM permit ensures that the marine sport operator has met all minimum standards to conduct business within the CNMI.  All properly permitted marine sport operators will be issued an ID card that they must be able to present while conducting marine sport activities. The card will indicate the company name, permit number, and expiration date.