CNMI Ocean Month
Waves of Change for a Better Tomorrow
2023
As a community deeply connected to our lands and seas, it is our commitment to ensure that our precious natural resources are conserved, protected, and effectively managed for generations to come. It is through ecosystem-based management, effective conservation, and fostering environmental stewardship that we are able to protect, and in many cases, restore and enhance, our resources.
In the CNMI, the ocean serves as more than just a source of sustenance and recreation, but provides a number of other valuable services to support sustainable livelihoods, coastline protection, and tourism opportunities. As such, DCRM celebrates this invaluable resource during the month of June, alongside the rest of the world.
Please see the 2023 CNMI Ocean Month calendar of events below. Should you have any questions or concerns, please contact the CNMI Ocean Month Chair, Colleen Flores, at cflores@dcrm.gov.mp or (670) 664-8300.
2023 Ocean Month Calendar

Announcements
RADIO ANNOUNCEMENTS
Tune in to Power 99 every week day, Monday through Friday at 7:30AM to hear some Ocean Facts!
Rota ocean month activities
Due to the ongoing recovery efforts from Super Typhoon Mawar, the Rota Ocean Fair and beach cleanup have been cancelled. For more information, please contact William Pendergrass, Rota Coastal Coordinator, at (670) 532-0466 or wpendergrass@dcrm.gov.mp.
saipan beach cleanup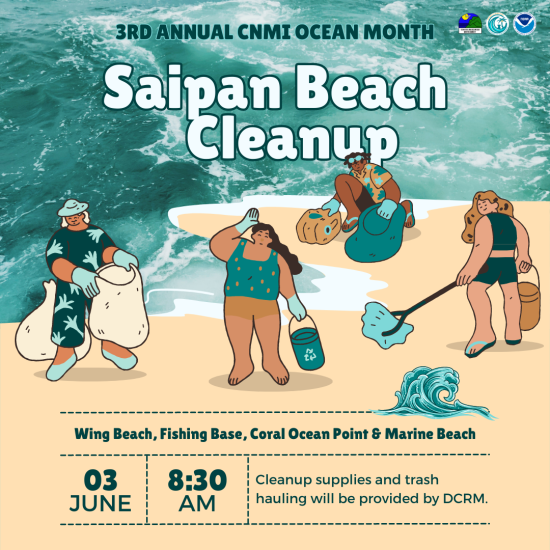 saipan ocean fair
The 2023 CNMI Saipan Ocean Fair will be held on Saturday, June 17, 2022 at the Civic Center in Susupe from 10:00am – 2:00 pm.
TINIAN BEACH CLEANUP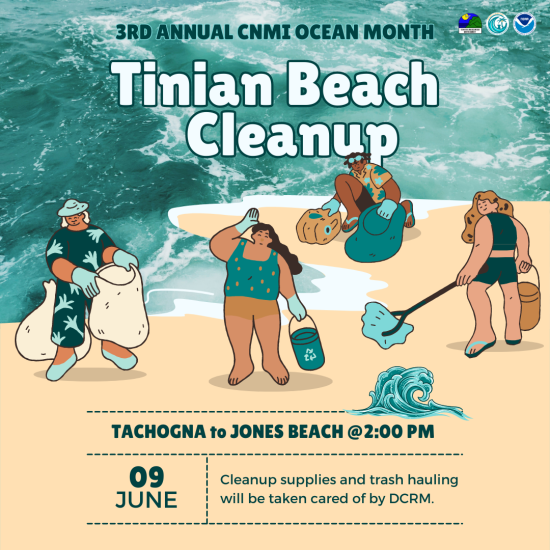 TINIAN OCEAN FAIR
The 2023 CNMI Tinian Ocean Fair will be held on Saturday, June 10, 2022 at Jones Beach from 10:00am – 2:00 pm.
TIQ Ocean Fair Flyer

UPCYCLING WORKSHOP
DCRM is hosting an Upcycling Workshop on June 13th, 6:30 pm at Marianas Creations, Garapan. Participants will learn the benefits of upcycling, how you can upcycle at home and at the workplace, and will also conduct an upcycling activity. The event is free of charge and seats are limited. To join this workshop, please register here: https://forms.gle/RtiarKtngGosDzVY6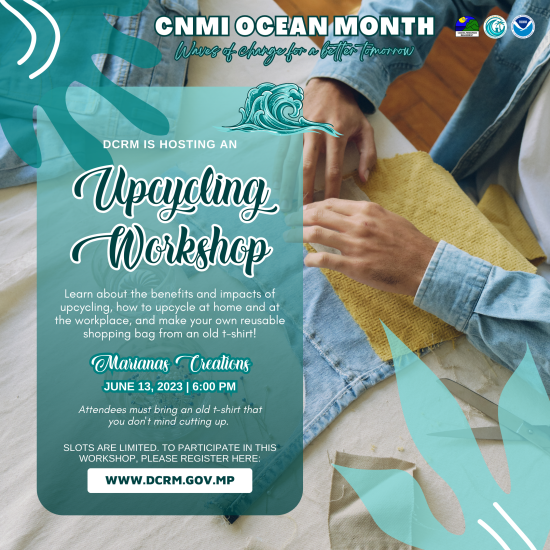 trivia night
It's game time! How well do you know our Ocean? Join us at our Trivia Night on June 29, 2023 at 6:00PM.