International Coastal Cleanup

The International Coastal Cleanup (ICC) is the world's largest single-day cleanup event with the goal of collecting and documenting trash littering our coastlines and waterways. Volunteers from states and territories throughout the U.S. and over 100 countries worldwide come together each year and participate in the cleanup event near them. The two layers of science and community service is what distinguishes ICC from everyday cleanups. The data collected during the ICC is entered into the Global Trash Database and is crucial to solving the world's ocean pollution problem.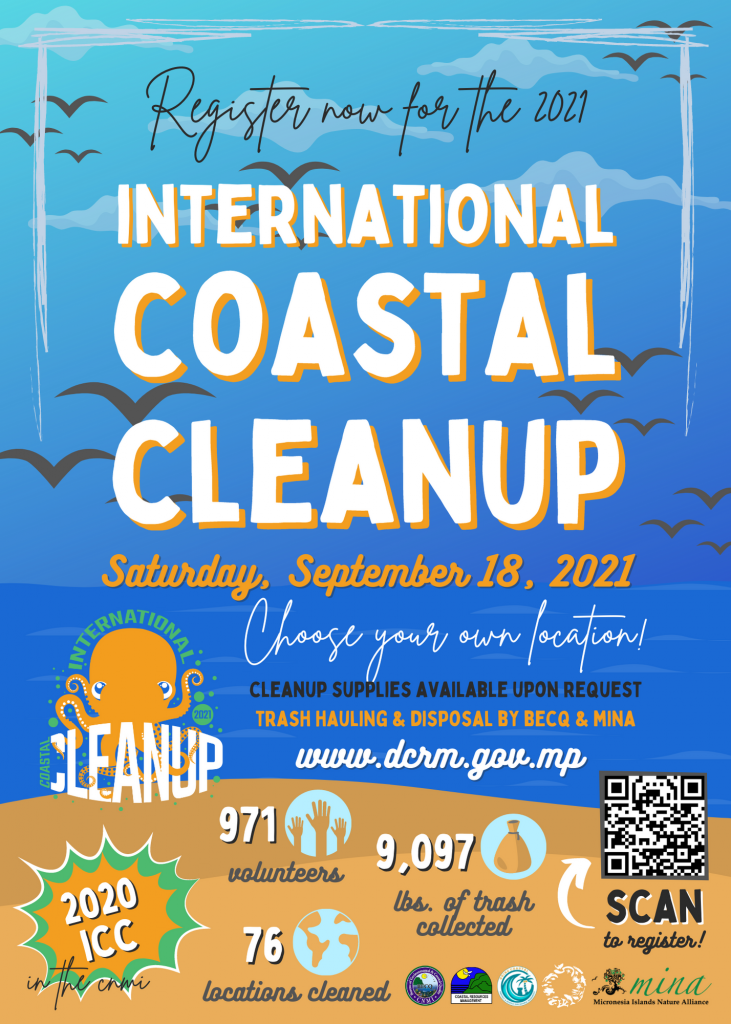 THANK YOU SO MUCH 2020 ICC VOLUNTEERS!
The Division of Coastal Resources Management led last year's International Coastal Cleanup on Saturday, September 19, 2020.
DCRM would like to thank all the 200 ICC Partners for doing your part to reduce ocean pollution in the CNMI and we congratulate you on a job well done!
2020 International Coastal Cleanup Partners:
SAIPAN
Bureau of Environmental & Coastal Quality, Office of Vocational Rehabilitation, American Memorial Park (National Park Service), Salty Skin Pacific, SSHS Environmental Club, SSHS Interact Club, SSHS Manta Ray Battalion, Office of Planning & Development, NMC's Natural Resources Management Class and Marine Biology Class, Herman's Modern Bakery, Paradise Dental Spa, Saipan Centennial Lions Club, Saipan Unity Lions Club, CTSI Logistics, Rotary Club of Saipan, Lady Wella Palacios and #FitBeat, Saipan Marianas Lions Club, Emon Masonic Lodge 179, Mariana Ocean Research Project, Saipan Fil-Am Lions Club, Rotaract Club of Saipan, Saipan Alliance Lions Club, McDonald's of Saipan, D&Q, Saipan Pacific Lions Club, United Filipino Organization, Chinese Hikers 1 & 2, L&T Groups of Companies, Saipan Tribune, Century Insurance, Fiesta Resort & Spa, IT&E, Saipan Cleanup, Saipan Paddling Club, Commonwealth Bureau of Military Affairs & the US Army Reserve, Legion of Mary – Kristo Rai Parish, Matua Council for Chamorro Advancement, Saipan Natibu Lions Club, Kanoa Resort Saipan.

TINIAN
Department of Labor, Department of Finance, Department of Commerce, Department of Public Works, DPW Solid Waste Division, Department of Lands & Natural Resources, Star Marianas Air Inc., H-Compoound.

ROTA

To learn more about the International Coastal Cleanup, visit Ocean Conservancy's website here or contact Colleen Flores, Saipan ICC Coordinator, Edwin Hofschneider, Tinian ICC Coordinator, or William Pendergrass, Rota ICC Coordinator.