Saipan Lagoon Use Management Planning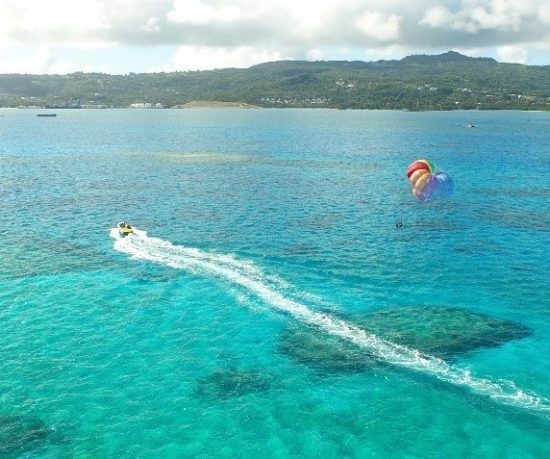 The Saipan Lagoon Use Management Plan (SLUMP) outlines a strategy for DCRM to follow as part of its mission to ensure both the sustainable use and environmental quality of the lagoon. The SLUMP identifies priority issues, key goals, and specific management actions that DCRM and its partners can pursue to improve the needs of a diverse set of users and stakeholders.
DCRM revises the SLUMP on a regular basis in order to adapt to changes in environmental and economic conditions and user groups. The SLUMP was first developed in 1985 and then updated in 1997, 2012, and 2017.
DCRM is working on addressing these recommendations through coastal zone planning and stakeholder engagement with key partner agencies.
As a result of the most recent (2017) SLUMP update, Lagoon management recommendations were provided to DCRM. These recommendations are as follows:
   Establish designated Lagoon use areas for motorized marine sports operations.
   Update DCRM marine sports permits.
   Develop and implement a unified Lagoon user's education plan.
   Collaborate with CUC on critical wastewater infrastructure improvements.
   Improve public access for Lagoon users.
   Encourage sustainable use of Ma

ñ

agaha resources.
   Create a fishing safety equipment program.
   Continue to support BECQ's marine monitoring program.
   Evaluate and implement appropriate shoreline stabilization and erosion control projects.
   Implement stormwater management improvements.
   Establish a sustainable, dedicated funding mechanism for Lagoon use management.
More information on these recommendations can be viewed here.
2020 Saipan Lagoon User Education plan
Recognizing the necessity of building upon the momentum of the 2017 update, where user conflict and lagoon-use dominated the conversations, DCRM focused its efforts on Recommendation #4: Develop and Implement a Saipan Lagoon User Management Plan. Partnering with Marianas Visitors Authority (MVA), Northern Marianas College (NMC), and many other agencies, DCRM completed the Saipan Lagoon User Education Plan (SLUEP) in November 2020 with engagement from the Marine Sports Operator community. The SLUEP Workshop was held in November 17-18, 2020 at Kensington Hotel to increase MSO participation and improve the plan. To access the SLUEP, please click here.
2017 Saipan Lagoon Use Management Plan Update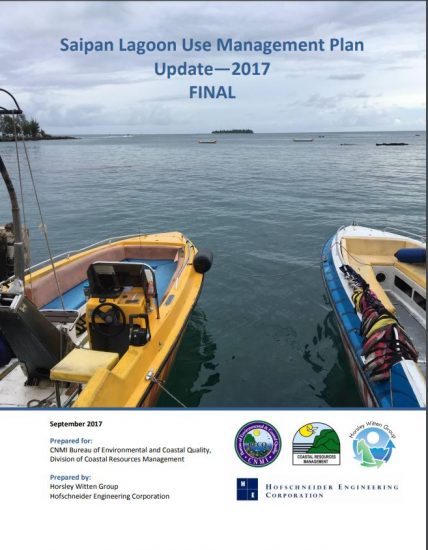 In preparation for the most recent update, a Saipan Lagoon User Survey and Mapping project was conducted in 2016 to better understand the predominant uses of the lagoon as well as the particular areas where each activity tends to occur. A comprehensive State of the Lagoon report was developed to compile scientific studies, technical reports, and maps pertaining to the quality of lagoon resources, potential climate change and watershed threats, coastal dynamics, use conflicts, and past management priorities. A public forum comprised of four separate sessions was also held to present data on the current conditions of the lagoon, solicit stakeholder input, and develop priority action areas and initial implementation options. A summary of these activities and studies are included as appendices to the full report.
Visit this website for more information on the 2017 SLUMP update.
See the list of publications below for more information: