Education and Outreach
Community Outreach
The CNMI CRI has numerous outreach and education events throughout the year ranging from presentations at schools, expos, fiestas, and other community events, to coordinating Ridge to Reef Summer Education Camps on Saipan, Tinian, and Rota.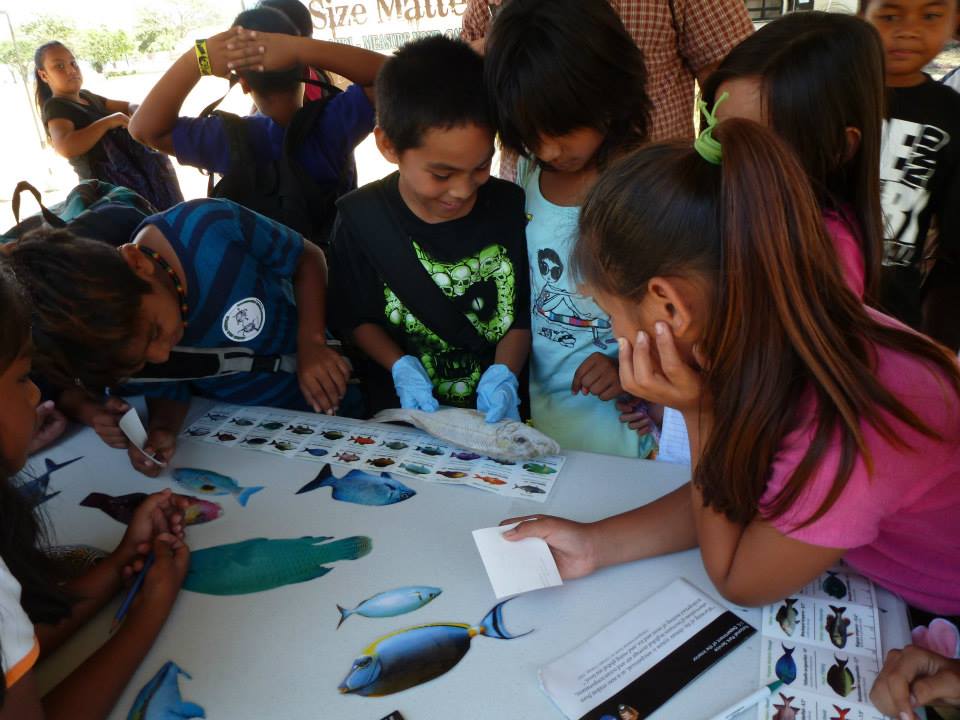 Ridge to Reef Summer Camps
The Bureau of Environmental and Coastal Quality's (BECQ) Division of Environmental Quality (DEQ) and Division of Coastal Resources Management (DCRM) work with numerous agency and non-profit partners to host free environmental camps for 4th and 5th grade students across the CNMI. Each camp has between 20 and 45 participants. Exciting educational activities such as snorkeling, hiking, bird watching, geo-caching, visits to dumps, dry litter piggeries and cattle ranches, tree plantings and more. Partner agencies included Division of Fish and Wildlife, NOAA, the Coastal Resource Management Office, Forestry, the National Park Service, Rota office of Commerce, the Public School Systems of Tinian and Rota, Department of Public Safety, Tinian NMC CREES, Tinian Cattlemen's Association, Beautify CNMI, Micronesica Bird Conservation, and many others. Follow this link to the full report on the Ridge to Reef Camps in 2013, and here for photo albums from each island's camps.

Our Laolao Campaign
The campaign also shines a light on the rich cultural and environmental value of the bay and what community members can to do protect it. We hope users will learn more about how special Laolao is to our island identity. Supporters can then Sign the Pledge to show support for a litter free Laolao and participate in campaign activities, such as beach cleanups, story contests, and flash mobs (yes, flash mobs!). Everything helps. Visit the Get Involved section to learn more.
Our Laolao is an experiment in how powerful a community can be if it cherishes the places that make us who we are and speaks out on their behalf. Our Laolao is the first step in a community-driven effort to save not only Laolao, but to also showcase what makes Saipan special. From Laolao, we hope to reach out to other parts of Saipan and the CNMI to protect our island way of life. But a journey starts with one step. So take this first step with us in Laolao and let's see how far it can take us
Garapan Watershed Warriors
DCRM has been holding biweekly presentations with the 4th grade classes at Garapan Elementary School. Presentations have ranged from defining a watershed to learning about coral life cycles.