DCRM Summer Internship Program
Formerly known as the Coral Reef Initiative Summer Internship, the DCRM Summer Internship program works to raise community awareness of coral reef and coastal zone issues, threats, and the efforts underway to protect them. Participants are provided with opportunities to gain hands-on experience in resource management, and are encouraged to pursue an education and/or career in environmental conservation.
THE PROGRAM:
15 interns are selected through an interview process and must be either a high school graduate or a current college student
Interns are placed with an experienced mentor at the various environmental agencies on Saipan including, but not limited to, Division of Coastal Resources Management, Division of Environmental Quality, Micronesia Islands Nature Alliance, Division of Fish & Wildlife, and the National Oceanic & Atmospheric Administration
10 week program between June and August (dates vary every year)
In addition to working on a CNMI-specific conservation project, each intern must write a news article and present on their completed project
Since 2002, over 100 students have completed the summer program
REQUIRED DOCUMENTS:
Applications for the 2020 DCRM Summer Internship is due on Friday, April 3, 2020.
CNMI Employment Application (which can be found here)
Cover Letter
Resume/CV
Transcripts (official or unofficial)
Two (2) recommendation letters (instructors and/or employers only)
Police Clearance (within the last 3 months)
Copy of Valid Photo ID (driver's license, passport, etc.)
2020 DCRM Summer InTernSHIP  –  CALL FOR APPLICANTS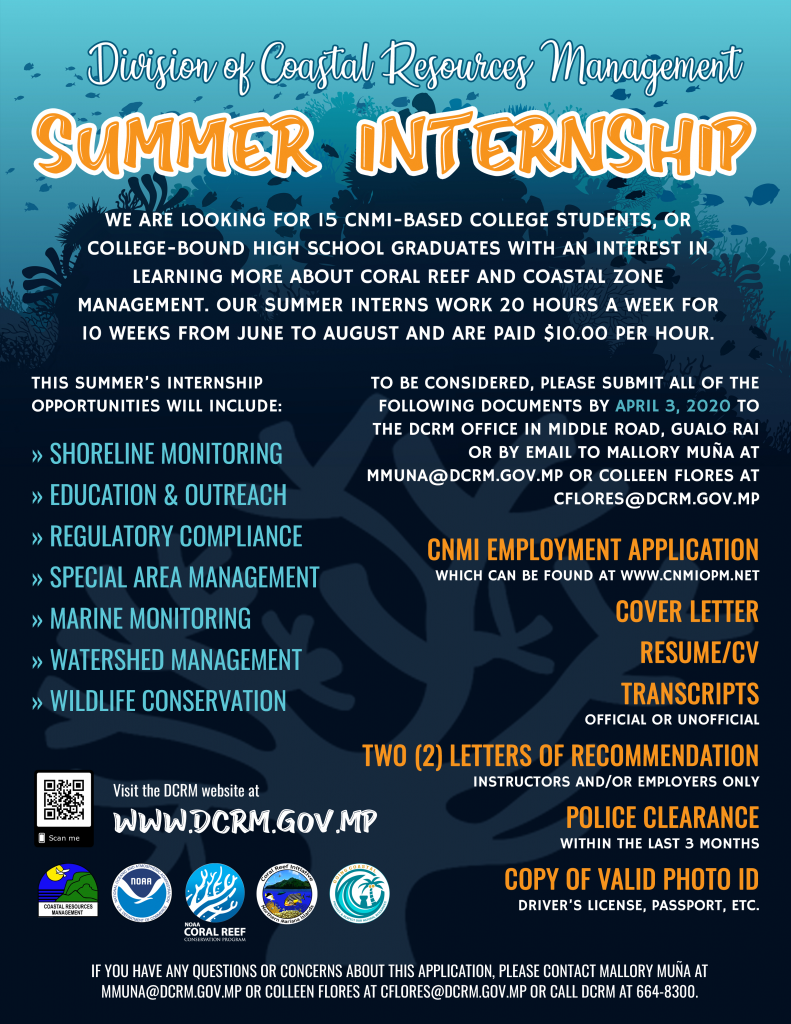 Visit this page to learn more about past internships.